Cory Doctorow at Boing Boing reports some scandalous information on Americans' knowledge of government programs (h/t BB). Apparently large numbers of Americans who rely on federal social programs aren't aware that they're dependent on the state (and its tax revenues):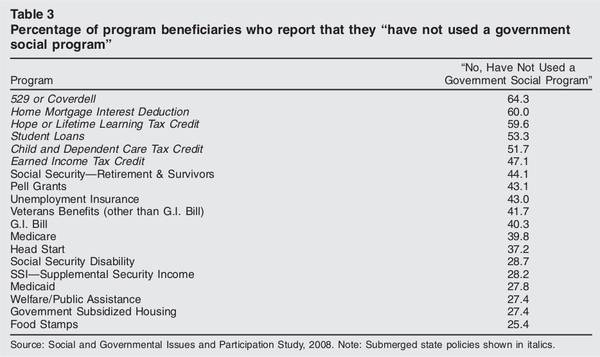 This is not complicated. See that chart? Do you get benefits from the VA? Do you depend on social security benefits? Do you use Medicare? You do? Well, you benefit from government social programs. As the debt ceiling farce fight heats up this week and the Republicans demand more cuts in federal programs, that's YOU they're talking about. Notice this doesn't take into account all of the non-social government programs we use. Do you fly in airplanes? Drive on highways? Use electrical appliances? Federal agencies make all of those safe, even possible.
And guess what? We all pay for OUR/YOUR social programs (and all those non-social programs) with taxes. That's where the money comes from. Taxes are at rock-bottom lows relative to the last 100 years. That's why we're in this fiscal mess all of a sudden. We either raise those again, or we cut your benefits. That's pretty nearly the whole of the equation. Don't tell me we should cut foreign aid. We don't spend enough there to balance the deficit. Not even close. We could eliminate the entire State Department, USAID, and the rest of our international affairs programs, and then we'd still have to cut the hell out of your social benefits (and our air traffic control system, and our highways, etc).
So look, if you want to grouse about Big Government and irresponsible D.C. bureaucrats, be my guest—just get off the federal dole before you do so. If you'd like to keep getting your Veterans/Social Security/Medicare/etc benefits, if you'd like to reap the economic benefits of investing in a 21st century public infrastructure, if you want your appliances to be free of lead or other pollutants, you need to be prepared to talk about raising taxes. You need to cut the sanctimonious, holier-than-thou, "welfare queens" bull. In the simplest of terms, you need to stop pretending that "Big Government" is the problem.
Worth remembering: Bill Clinton cut spending while maintaining sensible tax rates, and we had government surpluses for the first time in decades. In the 2000 campaign, Al Gore suggested that we invest those in our social programs—with his famous "lockbox" lines—and we (SNL and Co.) thought it was hilarious. Even though we'd seen strong economic growth (even adjusted for the tech-bubble numbers) through the 1990s with existing tax rates, we decided to blow our surpluses on the Bush tax cuts. Economic growth and job creation didn't follow, federal revenue didn't increase, we increased spending anyway, the deficit and debt ballooned, and now we're dealing with the consequences [.pdf]. Sure, Bush promised that the tax cuts would pay for themselves AND pay off the rest of the national debt by 2011, but that turned out to be as ephemeral as when he declared "Mission Accomplished" in Iraq.